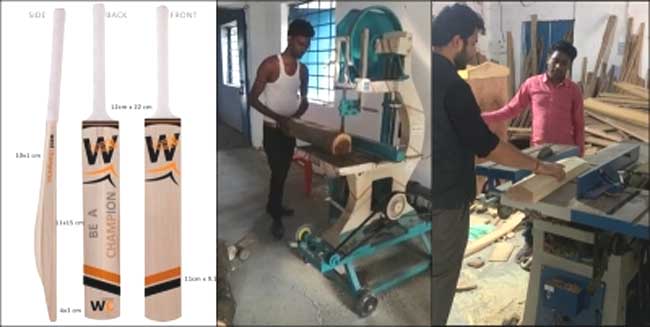 Bettiah (Bihar), April 6: Where there is a will, there is a way. At times, this will to overcome obstacles can spark entrepreneurial dreams and open up business opportunities. Abulesh, a resident of Gaunaha village in Bihar's west Champaran district, relied on this very indomitable will to begin manufacturing bats made of Kashmir willow, in his hometown.

When the nationwide lockdown was imposed in view of the coronavirus pandemic last year, Abulesh first felt that life would come to a standstill. After quitting his job as a bat-maker in Anantnag, Jammu and Kashmir, he returned to his native West Champaran district.

Abulesh was fortunate that his unique skill in making world-class bats, honed in Anantnag, was recognised by the district administration. As part of a start-up zone for Covid-hit workers returning to Bihar, the administration helped him set up a bat-manufacturing unit in West Champaran itself.

Today, these bats, priced between Rs 800 and Rs 1200, are in great demand in other cities as well and are sold under the brand name WC, a tribute to West Champaran.

District Magistrate Kundan Kumar says the administration has helped Abulesh acquire the basic machinery to manufacture bats and a bank loan to fuel his entrepreneurial dreams.

"Being highly experienced in bat-making, Abulesh and Lalbabu, another migrant worker who worked in Anantnag, source the willow that is used to make the best-quality bats from Kashmir, as well as the sports goods manufacturing hub of Meerut in Uttar Pradesh," explains Kumar.

The entire country was witness to the pain of migrant workers in the early days of the lockdown. People from Bihar, living in Uttar Pradesh, Maharashtra, Gujarat, Madhya Pradesh, Uttarakhand or other states travelled back to their villages on foot, covering thousands of kilometres,along with their wives, children and elderly parents.

When migrant workers from west Champaran were returning home, District Magistrate Kundan Kumar decided to focus on their skills. "If these skilled workers can make sarees in Surat and cricket bats in Kashmir, why can't they not work in Bihar? With this thought, we started a start-up zone in Chanpatia," elaborates Kumar.

Kumar told IANS that skill mapping was carried out at the quarantine centres and workers with diverse skills were identified. Several skilled individuals started emerging out of the quarantine centres, who till date were working in other states and contributed towards the development of these states.

Kumar proudly says that now the clothes made here are in demand in metropolises as well as tier-2 towns.

Kumar says that jackets made here are being exported to Spain and Bangladesh. An official was deputed along with an entrepreneur to reduce the entrepreneurship hardships faced in the initial stages. The start-up zone of Chanpatia today has become an example to emulate in other districts. Bihar Chief Minister Nitish Kumar also visited here and praised it.

"Clothes, saris, lehengas, jeans, pants, jackets, shirts, leggings, blazers, bat etc. made by the migrant workers are being exported to different parts of the country. The people working here are not able to supply enough according to the demand."

He said orders for 8,000 sweaters have just arrived. He claimed that in six months, the people here have done business of more than Rs five crore.

This initiative by Kumar, a 2012 batch IAS officer, has brought happiness to many homes ravaged by the pandemic. The migrant workers have become entrepreneurs today. It is being said that if this initiative by Singh is adopted in other areas of Bihar as well, then not only can the reverse migration from the state be reduced but the 'vocal for local' slogan can also be meaningful.