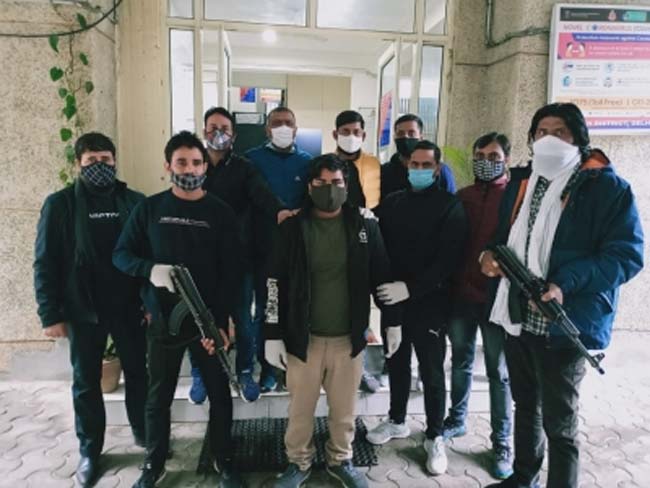 New Delhi, Jan 4 : A team from the Special Cell of Delhi police in a joint operation with Bihar police has arrested a notorious extortionist Aditya Tiwari ,24, a resident of Gopal Ganj in Bihar. Tiwari is involved in 26 cases of murder, attempt to murder, assault on police, robbery/dacoity, kidnapping, hurt, criminal intimidation, arms act, explosive act etc. in Bihar. Presently, he was wanted in more than 16 fresh cases committed by him and his associates in Bihar in the last 5 months.

Aditya Tiwari is a notorious gangster of Bihar. He alongwith his associates Manish and others was running an extortion racket in the state. He used to extort big money from businessmen and other rich persons in Bihar by threatening them. He and Manish (also wanted in more than 16 cases and having a reward of Rs 50,000 on his head) had arrived in Delhi-NCR about four months back. Since then, both were hiding at various places here.

"About 10 days ago, Aditya Tiwari and Manish had threatened a complainant in a case of extortion in Bihar through a voice message on his mobile phone. In one such voice message, Aditya and Manish had also asked the victim to convey to SI Dinesh, SHO of PS Vishambharpur in Gopalganj, of dire consequences if he continued chasing them," said PS Kushwah, DCP Special Cell.

Specific information was received on January 1, 2021 that Aditya Tiwari would come near Rajokari flyover, Gurgaon-Kapashera link road, Delhi to meet one of his contacts. A joint team of Delhi police Special Cell along with Bihar police nabbed him after a scuffle. One semi-automatic pistol of .32 bore along with 5 live cartridges was recovered from his possession.

Aditya and members of his gang had in July 2020, fired at a doctor who is also the owner of a hospital in Gopalganj, Bihar to terrorize him as he was reluctant to pay extortion money to the gang. Thereafter, they had hurled four hand grenades at his hospital to pile on the pressure. When the doctor still did not yield to their demands Aditya and his associates had fired with AK-47 and carbine machine-gun at the hospital to pressurize the doctor to pay extortion money.

Tiwari has been taken into police remand. Efforts to arrest his co-accused Manish are being made by police.