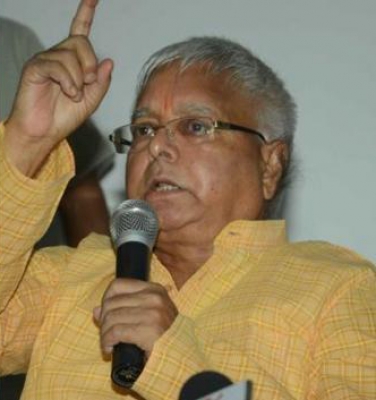 Patna, Sep 28 (IANS) Amid uproar over 'Thakur' poetry, RJD President Lalu Prasad Yadav on Thursday came in support of his party's Rajya Sabha MP Manoj Jha, saying that he has not given any wrong statements against any caste.

"Manoj Jha is a learned person. He has not given any such statement which is objectionable. Jha poem has not hurt any caste or community. He has not targeted anyone. He has pointed out the right things in public," Lalu Prasad said while launching the book named "Sadak Se Sansad Tak" of his old friend and socialist leader Shivanand Tiwari in Patna.

"Shivanand Tiwari is a fearless person who is never scared of anyone. He was born in an upper caste family but he always became a voice of minority, and of deprived sections of society," Lalu Prasad said.

He said that he and Bihar Chief Minister had separated in the past but now are united. "The communal forces are dictating terms in the country. They are trying to change the constitution of the country which is not a right thing," Lalu Prasad said.