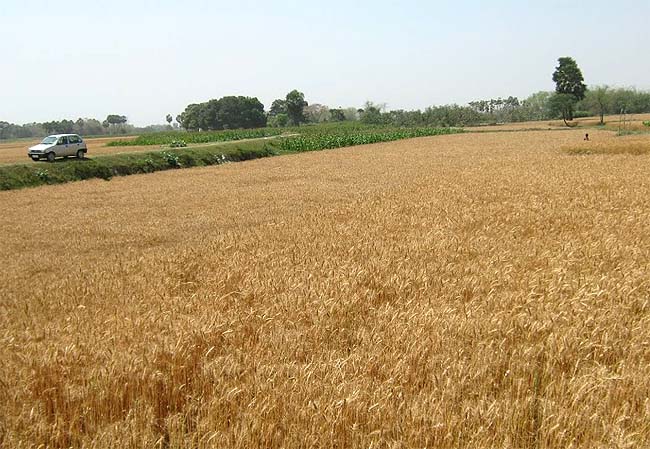 The MSP ( Minimum Support Price) serves as the floor prices and is fixed by the Government in the nature of a long-term guarantee for investment decisions of producers, with the assurance that prices of their commodities would not be allowed to fall below the level fixed by the Government, even in the case of a bumper crop. The Minimum Support Prices are announced by the Government of India at the beginning of the sowing season for certain crops on the basis of the recommendations of the Commission for Agricultural Costs and Prices (CACP).Procurement prices are the prices of kharif and rabi cereals at which the grain was to be domestically procured by public agencies for release through PDS. It is announced soon after harvest began. Normally procurement price is lower than the open market price and higher than the MSP. This policy of two official prices being announced continued with some variation upto 1973-74, in the case of paddy. In the case of wheat it was discontinued in 1969 and then revived in 1974-75 for one year only. Since there were too many demands for stepping up the MSP, in 1975-76. The present system was evolved in which only one set of prices was announced for paddy (and other kharif crops) and wheat being procured for buffer stock operations.
Farmers in India do not get remunerative prices for their crops even as consumers complain of high and rising food prices. A year of good production often turns out to be terrible for farmers because of the price crash. In his budget speech, the finance minister proposed raising the minimum support prices (MSP) to 1.5 times the cost of production, to ensure remunerative prices to farmers and reduce the price risk they face. The finance minister, however, did not clarify what cost of production will be considered for setting MSP.
In formulating the recommendations in respect of the level of minimum support prices, the Commission for Agricultural Costs and Prices takes into account, apart from the cost of production, the entire structure of the economy of a particular commodity or group of commodities. The following factors:- cost of production, changes in input prices, input-output price parity, trends in market prices, demand and supply, inter-crop price parity, effect on industrial cost structure, effect on cost of living, effect on general price level, international price situation, parity between prices paid and prices received by the farmers, effect on issue prices and implications for subsidy.However, the recent emphasis of government is to assign main importance to cost of production.
The Commission for Agricultural Costs and Prices estimates various costs that is; Cost A1 – All actual expenses in cash and kind,Cost A2 = Cost A1 + rent paid to leased in land, Cost A2 + imputed value of Family labour,Cost B1 = Cost A1+ Interest on value of own capital assets)excluding land), Cost B2 = Cost B1+imputed rental value of own land (land revenue) and rent paid to leased in land, Cost C1 = Cost B1 + Imputed value of family labour Cost C2 = Cost B2 +imputed value of family labour,Cost C2* = Cost C2 estimated by taking into account statutory minimum or actual wag whichever is higher, and Cost C3= Coct C2* + 10% of cost C2 on account of management function performed by farmer
The MSP policy has been a matter of contention since its inception, with a general feeling that MSP favours only the food surplus regions. For paddy, the largest Kharif crop, the comparative analysis of profitability in paddy production over harvest price for Bihar and Punjab revealed that profitability in paddy cultivation showed continuously declining trend in Bihar from 12.7 % in 1983 to negative in 2003 (-7.9%) and 2013 (- 3.7%) whereas in Punjab, it increased from 22.8% in 1983 to34.8 % in 2013.An increase in profitability in paddy production in Punjab was mainly due to slow increase in cost of production by rationalizing use of human labour use and get remunerative price of paddy because 81 per centrice being procured on MSP. But per quintal cost production showed increasing trend in Bihar, productivity is low and about 7 per cent farmers have access to procurement centresand more than 90 per cent farmers sold their paddy on un-remunerative price to traders. The harassment of farmers and corruption in procurement has its own story in Bihar.
MSP of paddy was 61 % higher than A2 + FL cost incurred in Bihar, 92% higher than A2+FL cost of Andhra Pradesh , 131 % higher than A2 +FL in Punjab, 24 % higher in West Bengal and 26 % less than A2 + FL cost in Maharashtra. There is a wide variation in per quintal cost of paddy production (C2) in the country which varied from Rs 958 in Uttarakhand to Rs 2282 in Maharashtra in 2014-15. Now there is a confusionon fixing MSP. Which cost should be considered: Cost A2 (all paid out costs) + Imputed value of family labour or C2(all costs including imputed rental value of land and other fixed costs). MSP was higher than 1.5 times the A2+FL cost of production in 2017-18 in Andhra Pradesh, Bihar, Chhattisgarh, Gujarat, Jharkhand, Karnataka, Punjab and Uttarakhandstates that contributed more than 70% of the total rice procured. Thus, 80% of the public procurement of food grains is from the states where MSP already provides more than 50% margin over the A2+FL costs.
In 2014-15, average total cost of production (C2) of paddy of all the states was Rs 1369 and MSP was Rs 1360, less than total cost.If MSP is fixed at 50 per cent of average cost of production of 2014-15 itwas about Rs2054/quintal and about 40 per cent of rice farmers were able to get 50 % more than their total cost of production( C2)but farmers of several states like West Bengal, Maharastra, Kerala and Karnataka would have not realized 50 % profit on total cost of paddy production( C2).
Fixation of MSP on total cost of production (C2) will certainly increase the consumer price. Presently paddy MSP is Rs 1560/ quintal and rice price is about Rs3000 per quintal. If MSP of paddy is fixed on total cost, It will be Rs2400 per q and rice price will be about Rs5000/quintal. It may be noted that about 50 per cent of farmers and landless laboursare net purchaser and burnt of disproportionate hike in MSP which will adversely affect their livelihood.
Generally, nobody against the hike in MSP but it needs some spade work. There are many states which are producing rice on higher cost.We should advise farmers to shift paddy area to other crops which can be grown more economically with minimum cost.In this juncture, it is more important to find out ways and means to reduce the cost of production. Maharashtra and West Bengal used human labour man days of 166 and 132, respectively whereas it was much less in Punjab (43 man days). It is a matter of concern that why few states use more labour in paddy production. Bihar one of the agriculturally backward states uses less than 80 days of human labour in paddy production. Cost of cultivation data should be analyzed for making strategies for reducing costof production of various crops.