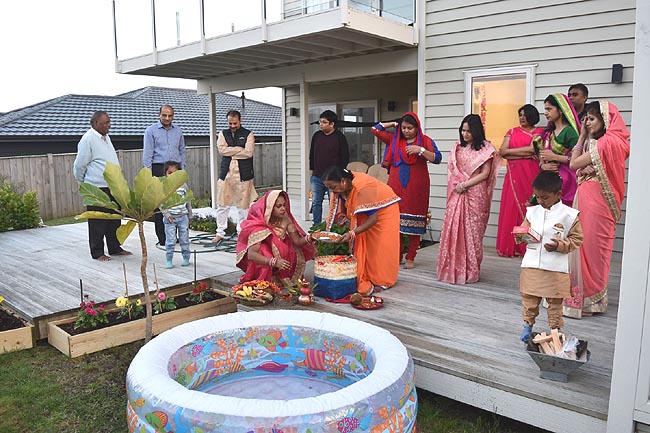 A matter of great pride for the Indian Diaspora in New Zealand from Bihar and Jharkhand when they experienced the connection with their roots as they celebrated the traditional Vedic festival of Chhath in different cities across New Zealand (Auckland, Wellington). Interestingly, due to the timedifference, New Zealand was one of the first places in the world to pay obeisance to both rising and setting sun for the Chhath celebration, making it furthermore special for the devotees in this country!
With anobjective to promote and preserve culture, language, heritage, identity, tradition, and art of people from Bihar and Jharkhand. Dedicated to the god of Sun for sustaining life on earth and Araghya was given to Surya for his continuous blessings, longevity, and prosperity.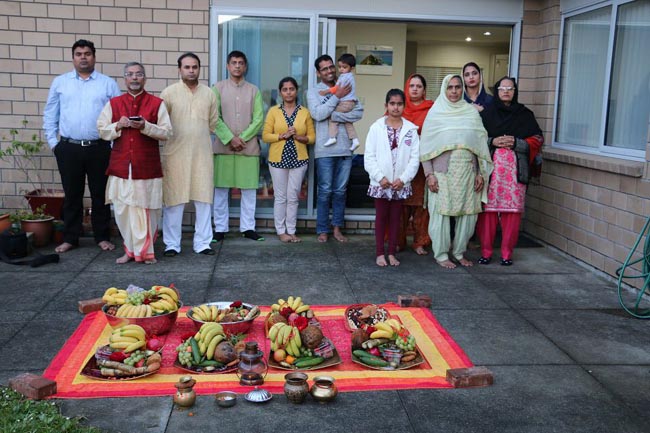 Non-resident from BiharMrs. Mili Gupta& Mr. Shiv Gupta from Auckland, and Mrs. Ritu Gupta & Mr. Binay Kumar from Wellington, made it possible for numerous families to become a part of this auspicious festival spread over four days. A remarkable experience of celebrating Chaath Puja in a foreign land toassociate with themotherland.
With a small percentage of thepopulation that the Biharis have in New Zealand, the Chhath Puja started as a private affair 9-10 years ago with a make-shift pond in the backyard, nevertheless, with the same essence and purity. It has quickly gained grounds and this year more than 15-20 families gathering across New Zealand to come together to be a part of this special occasion. Devotees who maintained 'nirjalvrat' (fasting without even a drop of water) offered 'evening Arghya' to the setting sun on Oct 26 at 7:47 PM NZST followed by 'morningArgha' to the rising sun on Oct 27at 6:21 AM NZST.
On the successful completion of Chhath Puja, all the families had a sense of contentment and belongingness and in-spite of being separated from their families, being able to sustain their traditional values in this home away from home, accounted for this being an emotional moment for one and all.
The Bihar Jharkhand Sabha of Australia & New Zealand (BJSM) highly appreciated for providing a common platform to the people of these states to connect with one another as they continue to grow together as one big happy family!