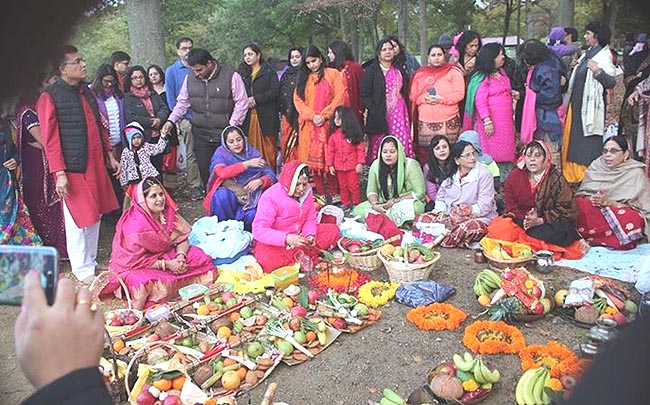 It was a proud moment for the Executive Team of Bihar Jharkhand Association of North America (BJANA),who organized ChatthPuja for the first time in its history, at a lake in Thompson Park, Monroe, New Jersey. Hundreds of happy devotees came to witness this sacred puja with much emotion and enthusiasm. 2pm on day of Sandhya arag (26th Oct), it started raining but it did not dampen the dedication of Team BJANA. And much to the joy and relief, the rains stopped and the day became clearer within an hour. By 5.00pm hundreds of people had gathered at the lake to be part of the'Sandhya arag' Chatth Puja event. It was chilly but none complained. Around 250 people arrived to offer the 'morning arag'. Chatthprashad was distributed after the completion of the puja on the morning of 27th October.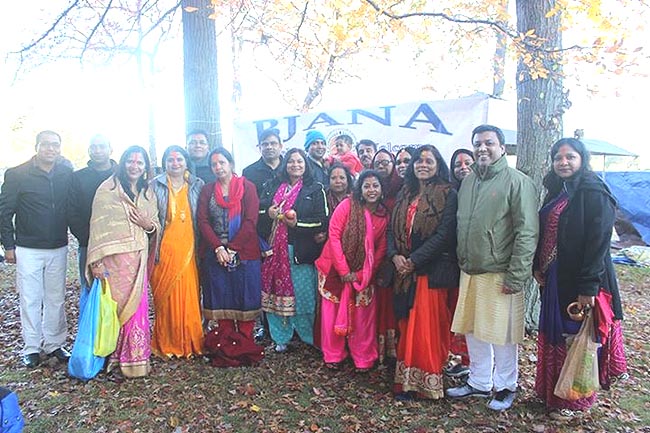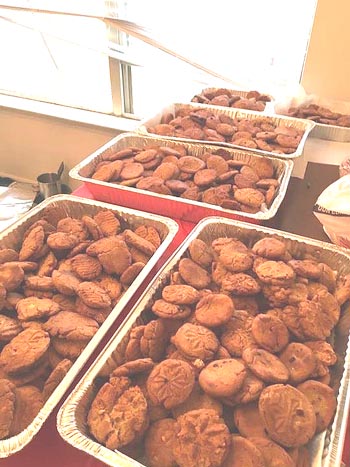 BJANA President, Ms Anjali Prasad along with her team members thanked Mrs. Anita Pathak, who was the first volunteer to show her willingness to perform Chatth with BJANA. She was later on joined by Mrs. Bhavna Singh, Mrs. Nita Mishra, Mrs. Amrita Mishra & Mrs. Pushpa Mishra who together performed the Chatth Puja surrounded by the devotees to offer Arag. Ms. Prasad also thanked all the ladies who had gathered at Anita jee's house to make 'Thekuas'. She also thanked the team members and volunteers who cleaned, decorated and organized, arranged for Tea & samosas by the lake. It was a proud moment for the team and the hard work was much appreciated by all.
It was a magical moment, people felt nostalgic as this community event brought back memories of their Chhath Puja back in India. It was an emotional moment which brought people from Bihar & Jharkhand community together. ChatthMaiyaki Jai!